Ulti-mutt Dream Team!
$49.99
Regular price
$64.99
This Sprinkle & Sweep Bundle includes the essentials and more to get started with today's leading accident cleanup solutions at home!

Purchase 1 Bag of Sprinkle & Sweep at 30% OFF (MSRP $24.99) and receive the Sweeper Kit 35% OFF ($19.99 MSRP) plus 10% OFF our Stain & Odor Enzymatic Spray ($19.99 MSRP)

Included in this Bundle:
 - 1 Bag of Sprinkle & Sweep
 - 1 Sweeper Kit
 - 1 Stain & Odor Enzymatic Spray
*Our adorable puppy not included :)
"I have two older Dobermans, I'm blown away with how well this this stuff works for their occasional accidents around my house! Makes cleaning up after them a MILLION times easier for my husband and I. Personally, I highly recommend this product for all pet parents, especially those with medium to larger breeds!"
Melissa I.

TRY RISK FREE
Where You've Seen Us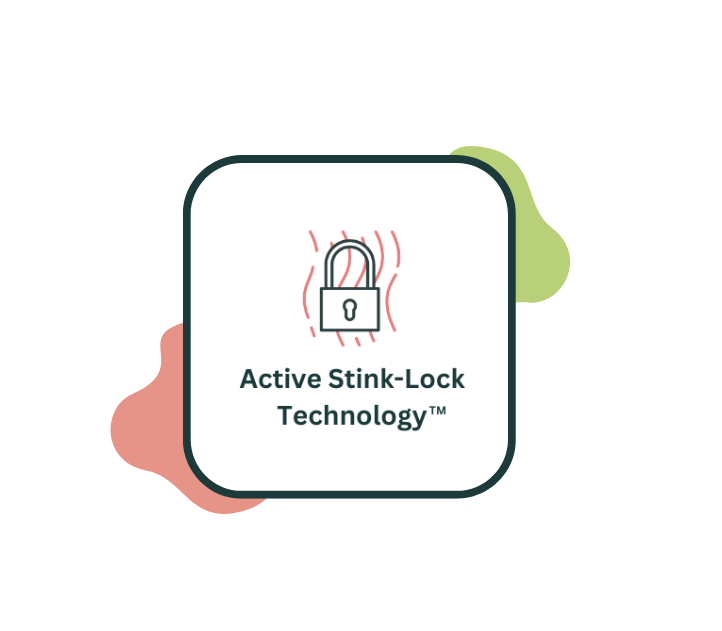 What in the world is Active Stink-Lock Technology™?
How It Works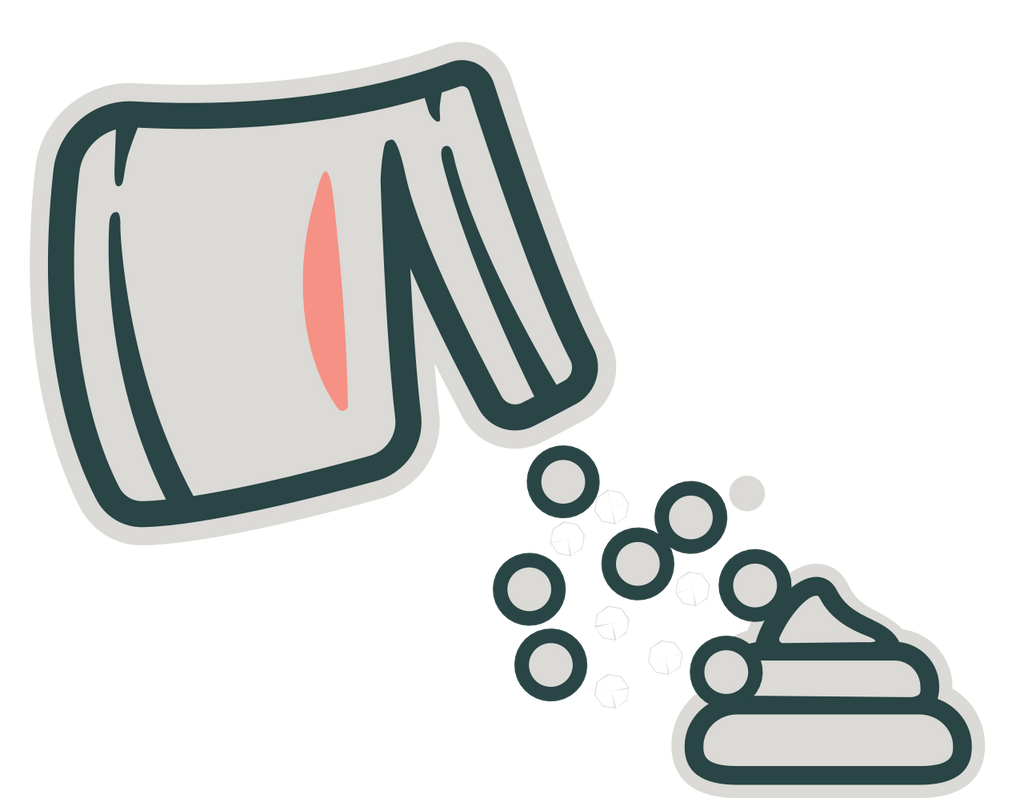 Cover
Completely cover mess with Sprinkle & Sweep granules.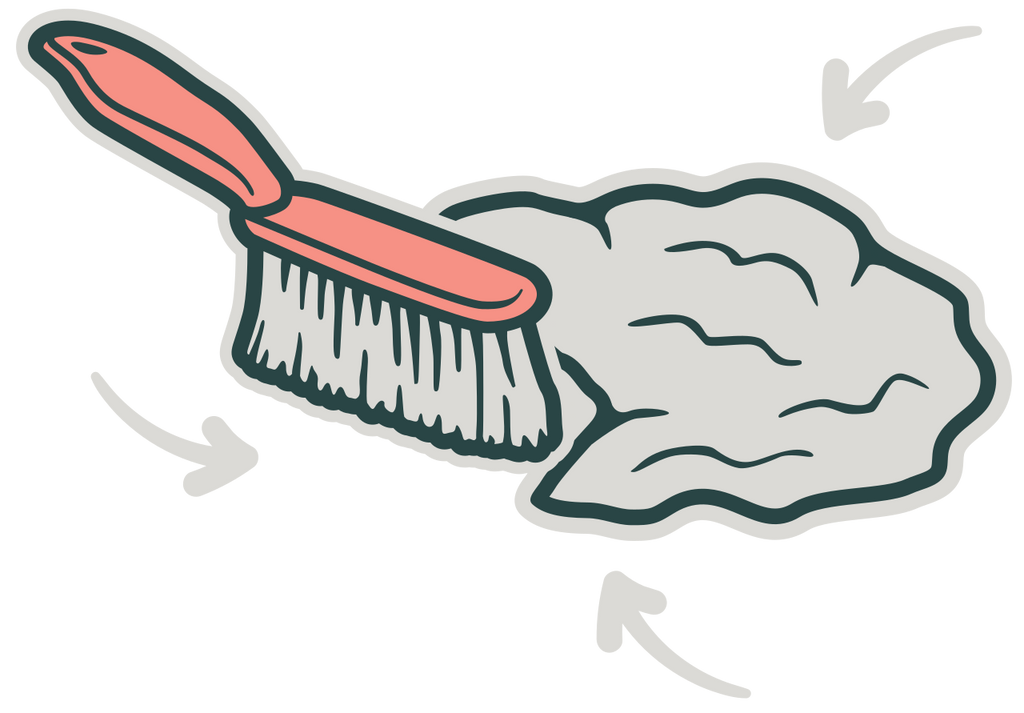 Work In
Sweep from the outside inward, unsticking the accident from surface.
Sweep
Sweep into a dustpan and dispose in trash.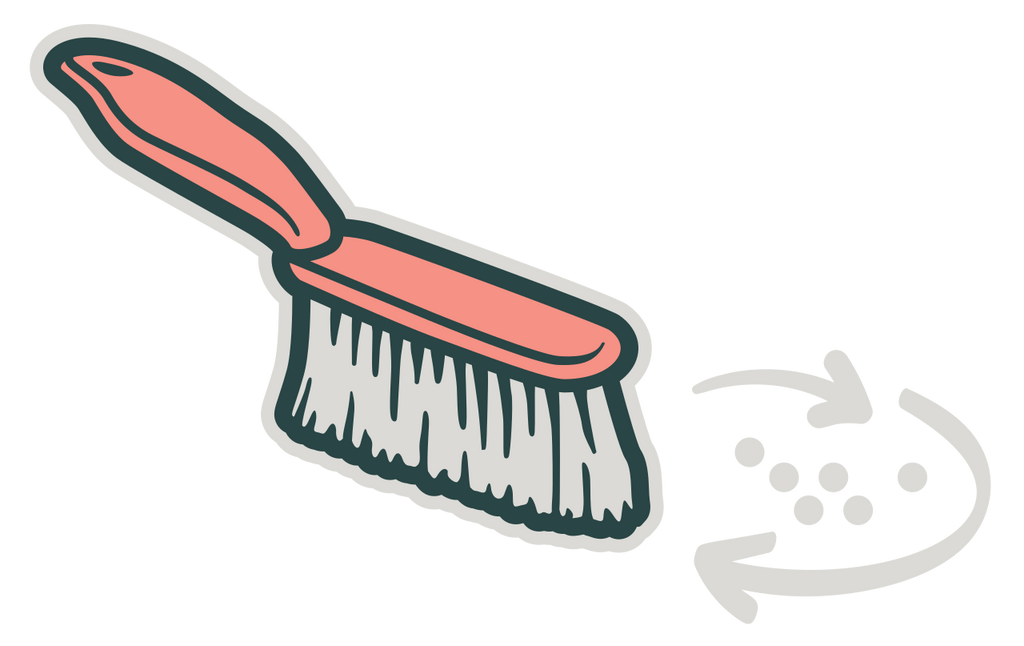 Swirl
Sprinkle a small amount on any remaining residue and swirl in a circular motion until gone. Sweep again and dispose.
What Pet Parents Are Saying
This product has been AMAZING for cleaning up many accidents in my condo from my pit bull. I work long hours and so does my girlfriend, often times we get home to a big surprise on the floor. This product has completely changed how we deal with his accidents, it makes it super super easy and I love the essential oil aroma. It lasts a long time too!!
James S.

We have a ten year old pup who has forgotten how to let us know her potty needs. Fortunately, she uses the kitchen floor. We have used it several times and are very pleased with the outcome. The smells are gone, everything is dry when I sweep it up, and our pup is beginning to remember how to announce her needs.
Linda N.

This product is saving my floors, mainly with her occasional runny poo and pee accidents which would drive me nuts before finding this! I first was suggested it a few months ago from my long time friend who is a renowned vet in our area. One bag has lasted me a few months, so it goes a pretty long ways. Loving the cute green sweeper kit too!
Emily D.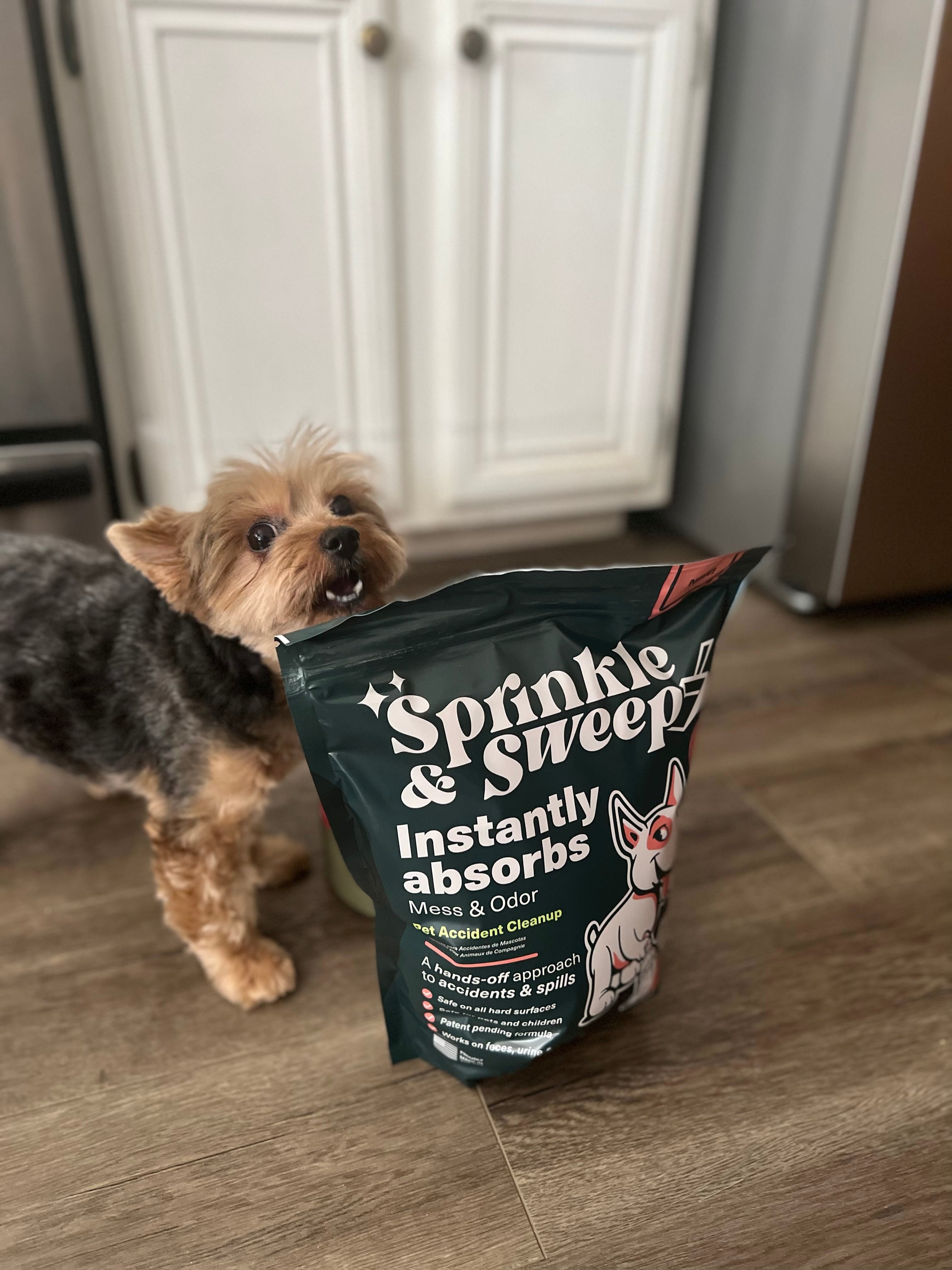 I wish this had come home with my new puppy! I bought some for my daughter, who also got a puppy. Best way to clean up those inevitable accidents that puppies make!
Teresa B.

How many accidents can one bag cleanup?
Most pet parents are able to address 40 pet accidents with medium sized dogs and cats! For larger to extra large breeds, about 30 accidents is the average for a single bag!
That's a ton of pee and poo 'bang' for your 'buck', without the 'yuck' of stinky poo covered mounds of paper towels!
Safe around pets and children?
Yes! Sprinkle & Sweep is not harmful if accidentally swallowed in small amounts. However, it isn't a food product, please be sure your pet doesn't attempt to consume it as part of their regular diet.
Please store your Sprinkle & Sweep products out of reach of pets and young children.
Should I get the Sweeper kit too?
YES! The Sweeper Kit is a MUST for ensuring your experience is consistently outstanding!
Our Sweeper was methodically designed around the Sprinkle & Sweep material characteristics.
Although the sweeper is easy to keep clean and disinfected, we wouldn't suggest using your kitchen sweeper for pet accidents!
Does Sprinkle & Sweep work on carpet?
Sprinkle & Sweep can work amazing on carpet, we just don't recommend it on light colored carpets, shaggy carpets, or for pee accidents on carpet.
If you do wish to use it on carpet, simply use it on the most icky accidents such as vomit or poo. It will be life changing compared to using paper towels or bathroom tissue!
Is it really veterinarian approved?
YES! Our veterinarian endorsements will be added to our new website soon! In the meantime, visit our Instagram to see several public veterinarian endorsements of Sprinkle & Sweep.
There are well over 100 veterinarian clinics across the United States using Sprinkle & Sweep in their practices daily!
Isn't this just like cat litter?
Negative, ghost rider!
Cat litter can't compare to Sprinkle & Sweep, litter works amazing as a medium for our feline family-members to use in their litter box.
However outside of this, cat litter will not eliminate odors or perform overall like Sprinkle & Sweep does for pet accident cleanup.
Can I use Sprinkle & Sweep outdoors?
It was developed for indoor use, but can be used outdoors!
One way Sprinkle & Sweep is used by many while outdoors is on walks! Instead of having to pick up that warm doggy #2 with just a thin layer of film between your hand, try covering with a thin layer of Sprinkle & Sweep. Trust us, your senses will thank you! ;)
Where is Sprinkle & Sweep made?
We manufacture Sprinkle & Sweep in Sunny Southern California, under our own roof, surrounded by our animal obsessed team.
How can I use Sprinkle & Sweep in the litter box?
Another big YES! Sprinkle & Sweep performs amazing as a litter box deodorizer, however we don't recommend using it exclusively as litter medium.
Simply 'sprinkle' into the litter box as needed to eliminate those ammonia-laced kitty odors.
Where else is Sprinkle& Sweep effective?
Stinky trash container? That's trash!
Simply sprinkle in a light top layer to eliminate those smelly odors instantly!
Did we mention Sprinkle & Sweep can also be used as a fantastic litter box enhancer? Oh and that it is a life saver for spills in the kitchen or in the garage!
How does my subscription work? Can I update my preferences later on?
Difficult to manage subscriptions make our eyes roll.
We make it simple to skip deliveries, or cancel subscriptions right from your account portal. Sign in to manage your subscription preferences at any time right from your mobile device or computer!